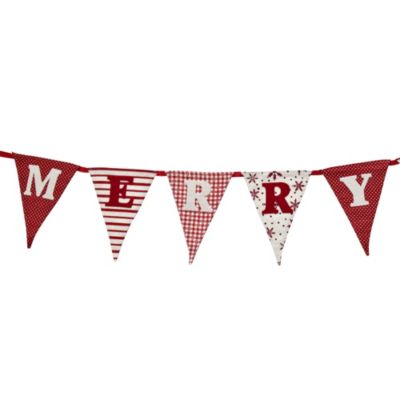 (image from lakeland.co.uk)
This photo doesn't do the "Merry Christmas" bunting I have seen in the Lakeland catalogue justice at all. It is quite a bit nicer than it appears in this photo, and something I think I could make a version of!
The original in the shop is £12.99, which for 14 triangular pieces of material and some letters attached to some stringy stuff seems rather expensive. I'm not buying it, don't worry.
I think that I may have enough Christmassy material [or at least red, green and white material] stashed away somewhere that I could make it. If I make judicious use of pinking shears to reduce fraying, and quite liberal use of glue, I may even be able to get away without much sewing......I am not that great at sewing.
This weekend may well find me digging out the fabric and having a look to see what else I might need. We are lucky to have had a Boyes shop open up relatively recently in one of the nearby towns, and they have a fairly cheap haberdashery section, so I could get a few bits in there if need be.
Can any of you expert seamstresses out there offer me any advice or top tips?