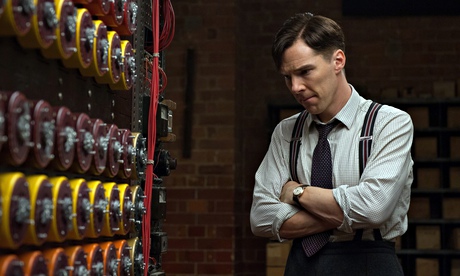 (image by allstar on theguardian.com)
Well, I would have settled for a DVD and lighting the fire, but the YFG is strangely persuasive and we ended up at the cinema to see
The Imitation Game
starring Benedict Cumberbatch [above] ably supported by Kiera Knightly and a host of other stars including Charles Dance and Allen Leech.
It was "free" in as much as we had some Clubcard vouchers and a voucher acquired a while back from buying a couple of bags of sweeties! So we didn't pay for the tickets, and we didn't buy the over-priced popcorn and drinks either.
The story is based on the real life experiences of Alan Turing, a mathematician and cryptologist from the University of Cambridge. I shan't spoil the ending for those who want to go to see it, but take a tissue or two. It is quite brilliantly made, and very well acted.
We have had a meal tonight which always makes me think of the FH and his heart transplant. I was just putting a meal out on the plates the day that he had the call, and the entire meal went straight in the bin as we had no time to waste - we had to get to the hospital and he was forbidden to eat another morsel, of course. That meal was a boiled bacon joint, with veg including broad beans and potatoes. That's what we have had tonight - and thought of him. He would have been 76 tomorrow, so we will be thinking of him, and remembering the good days.
And for now - we're by the fire, watching the opening credits of War Horse. Seems like today will be a double bill of Benedict........and another war story.