I do get a little "homesick" for the hills and valleys of Scotland occasionally, and am able to indulge myself by watching one of the DVDs of some of the great Scottish series we have enjoyed over the last 15 or so years!
Hamish MacBeth first aired in 1995, and I remember watching it when I was pregnant in 1996 as well. We made a trip to the west coast to stay in a caravan at the end of the world, it seemed, in a tiny hamlet called Corran, along the road from Glenelg. We had to go over a high pass to get there, and we didn't go out too often! We did make a trip to Plockton one day though, where Hamish MacBeth was filmed, Plockton becoming Lochdubh for the storyline. We even came across the McCrae's old Landrover in the village car park, and couldn't resist taking a few photos - not able to share though, because that was in the days before digital! There were three series of this, and the romantic tension between Hamish and the local reporter, Isobel Sutherland, was very entertaining - Isobel was played by Shirley Henderson, who the girls know as Moaning Myrtle in Harry Potter. Hamish is played by the talented Robert Carlyle, although I think that the acting of this character way back then is far better than some of the other "interesting" ones he has done since!
Monarch of the Glen ran for seven series between 2000 and 2005, and it was really my favourite - and it just seemed to get better! The cast changed immensely over the five years, but it never lost its appeal, and I have it all on videos and DVDs. The storyline develops over the years, as the relationships between the characters play out, and people move on. At the beginning, you would never have imagined the ghillie ending up with the second laird's mother, and the third laird appearing and marrying the shepherd(ess).
Two Thousand Acres of Sky featured Michelle Collins as a single mum who had to persuade her best (male) friend to pretend to be her husband so that they could begin a new life on an island which needed more people - she was given the opportunity to run the island B&B, and I have fond memories of this one as quite funny as well as fantastic scenery. This one ran from 2001 to 2003 for three series. I don't have this series on DVD (yet!) but am keeping a keen eye out for it at charity shops and car boot sales as it is horrendously expensive from retailers as it seems to be quite rare.
Hope Springs ran for one summer in 2009, and it was great for the scenery, but the storyline and acting weren't that great. I haven't got it on DVD, and include it only for completeness when thinking about the Scotland-based series I have watched in these last 15 or so years. The storyline revolved around a group of ex-prisoners who stole some money from one of their ex-husbands and planned to escape to Barbados and live the high life! It all went horribly wrong and they ended up in a tiny and remote village in the Highlands called Hope Springs. It wasn't one of Alex Kingston's best moments at all...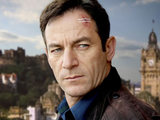 Jason Isaacs is brilliant as the Edinburgh-based policeman-turned-private detective in Case Histories. Again, like Shirley Henderson, the girls know this actor from his Harry Potter persona of Lucius Malfoy, but I think he is excellent in this, and much better without all the makeup! We have hopes of more of this coming to the BBC perhaps this year, but who knows? Although this is the only one of the programmes not set in the Highlands and Islands, it is still great to see the historic streets of Edinburgh as the backdrop. One of my favourite DVDs to watch whilst ironing!