I thought I would have a look at the new tv programme about reducing the family grocery bill.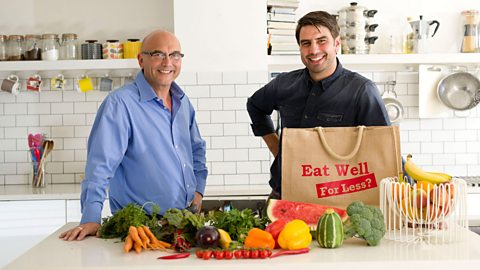 These two chaps, Gregg Wallace and Chris Bavin [never heard of him, but apparently he is an award-winning green-grocer], set out to overhaul a family's shopping habits with the aim of reducing their outgoings.
I should have known.
It wasn't going to be Mr and Mrs Average with two children, spending £100 a week, and getting it down to a more reasonable £60. Oh no, it was Mr and Mrs Big Spender with 4 children, and they spent, on average, £355 a week. A week! They also visited the shops/supermarkets 17 times in an average week......that's spending! They had some very specific ideas about brands, too. To give them some credit, they did seem to take on board what was suggested - but it was nothing we didn't already know: scale down the brands, cook from scratch more, and shop with a plan in mind, for example.
So if you start with someone spending so much more than average, getting it down is not going to be that challenging, is it? Apparently, the average family with four children spends about £105 on a weekly basis. A challenging programme would have helped Mr and Mrs Average bring that down even further so that we could see some stellar strategies like those from
Elaine at Mortgage Free in Three
[check this link for a great idea to help with meal planning] and recipes like this one from
Frugal Queen
.
Sadly, I don't think people who read frugal blogs have anything much to learn from this programme, and I shall not be wasting another hour on it next week.