Well, one in particular. Many people look down on the watching of too much television, but my problem at the moment is the lack of time to watch particular programmes which I would really like to watch!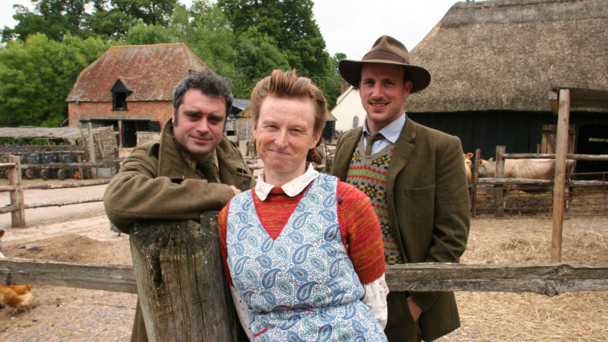 (photo from www.bbc.co.uk)
I have been so looking forward to catching up with the exploits of these guys on the farm, but haven't had a chance to watch the first episode yet, having missed it last Thursday night.
(photo from www.bbc.co.uk)
And The Great British Bake off - well, I think they are up to about episode 5 now, and I only saw the first one! Now it is most inconvenient too - 8pm on a Tuesday is just when the gymnastics is finishing so by the time we have got home and supper is organised, this is the least of our priorities, and the FH is watching something else when we walk in the door so it goes right out of my head....if I had remembered anyway!
(photo from www.itv.com)
The Bletchley Circle looked like it was going to be really interesting - a team of code breakers from Bletchley Park doing a spot of detective work after the war, and with Julie Graham as well. Only three episodes to watch, and I haven't seen one yet either!
(image from www.itv.com)
But somehow, I do not intend to miss this one! The new series of Downton Abbey starts on Sunday, at 9pm, just when I will have the perfect excuse to be watching the tv - the school ironing heap - so this is in with a chance.
And in that mix we have mostly the historical with a little bit of culinary, and lots of interesting people. Not rubbish. And only four hours in a week.
I know about the wonders of i-player and itv player. I KNOW! But it doesn't "feel" right to sit at the computer and watch tv somehow - and it is much less comfortable, and I can't get the ironing board set up in here very easily, and it wouldn't be conducive to knitting!
And you know what - the FH will be 75 in November, so we have only had to pay a measly £36 for our tv licence this year, and nothing to pay after that, so I would like to make the most out of what will be free entertainment!
I'll read the books instead...